Join us – in person this fall for Dr. Stephen Berk's newest lecture series.
Books, Prose, and the Course of Modern History.
Congregation Agudat Achim's Programming Committee announces a series of four fascinating lectures with Dr. Stephen Berk, Professor of History at Union College and Scholar-in-Resident at Congregation Agudat Achim for more than 30 years.
Registrants will receive the password to enter the secure page to view live or prior recorded lectures in this series.
The dates of the 2023 lecture series are
Thursdays, 28 Sep, 05 Oct, 12 Oct, and 19 Oct, all at 7:30 pm in person only.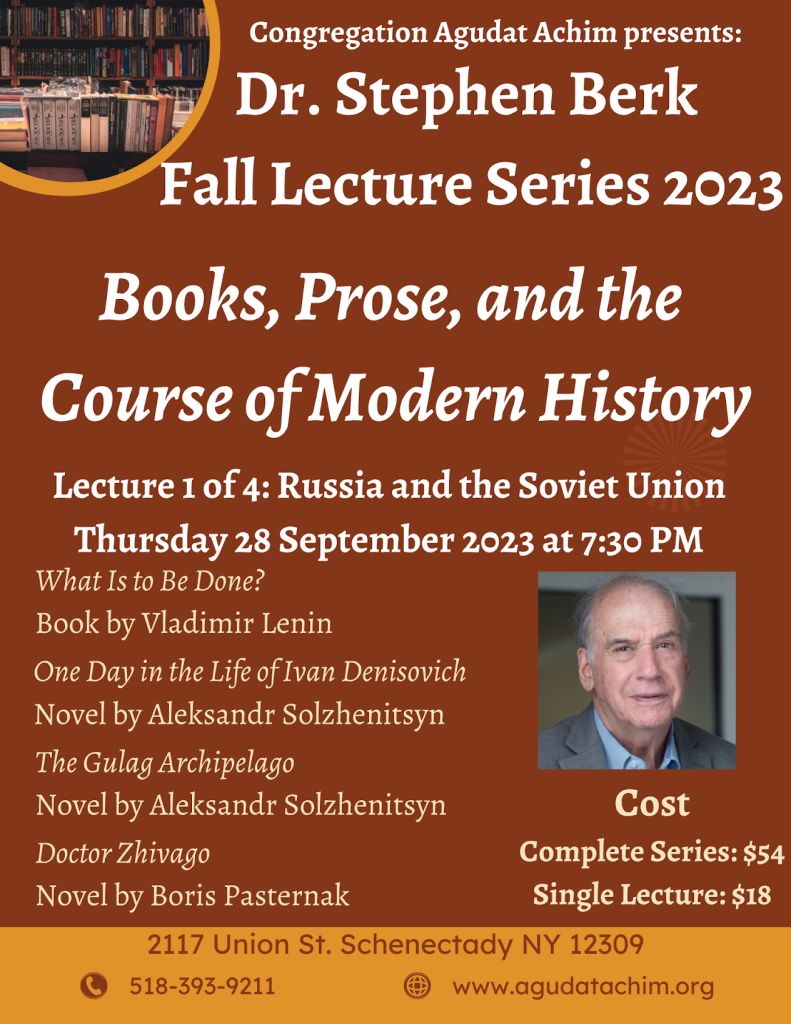 Week 1 – Thursdays, 28 Sep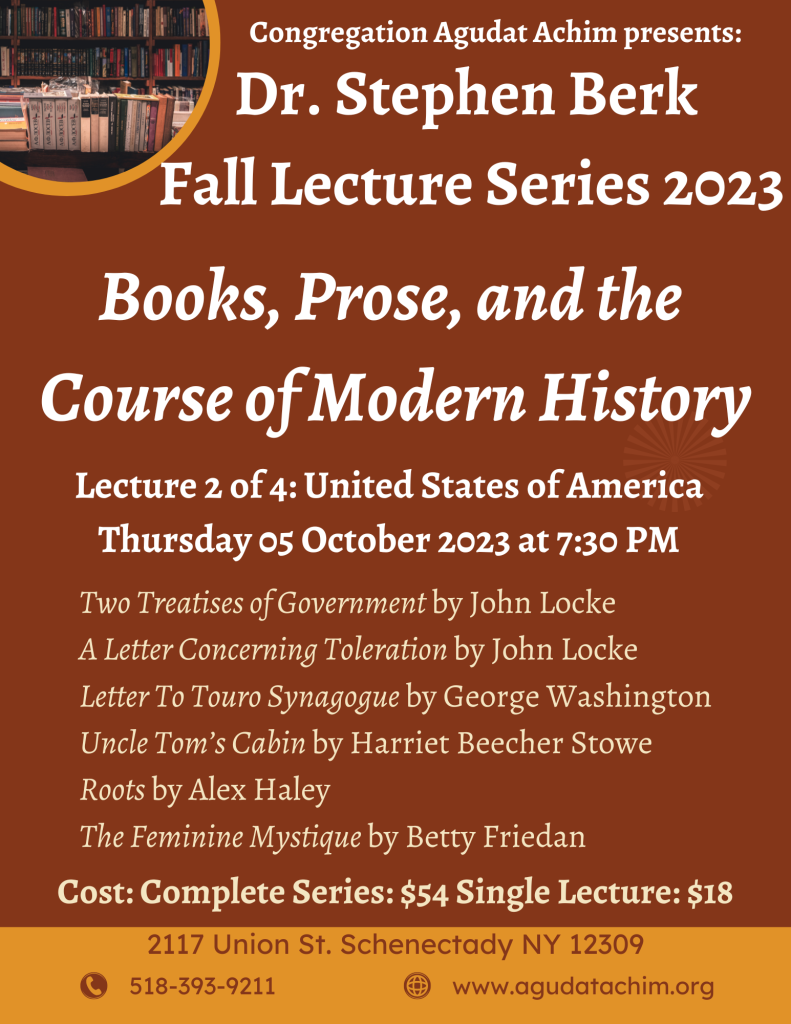 Week 2 – 05 Oct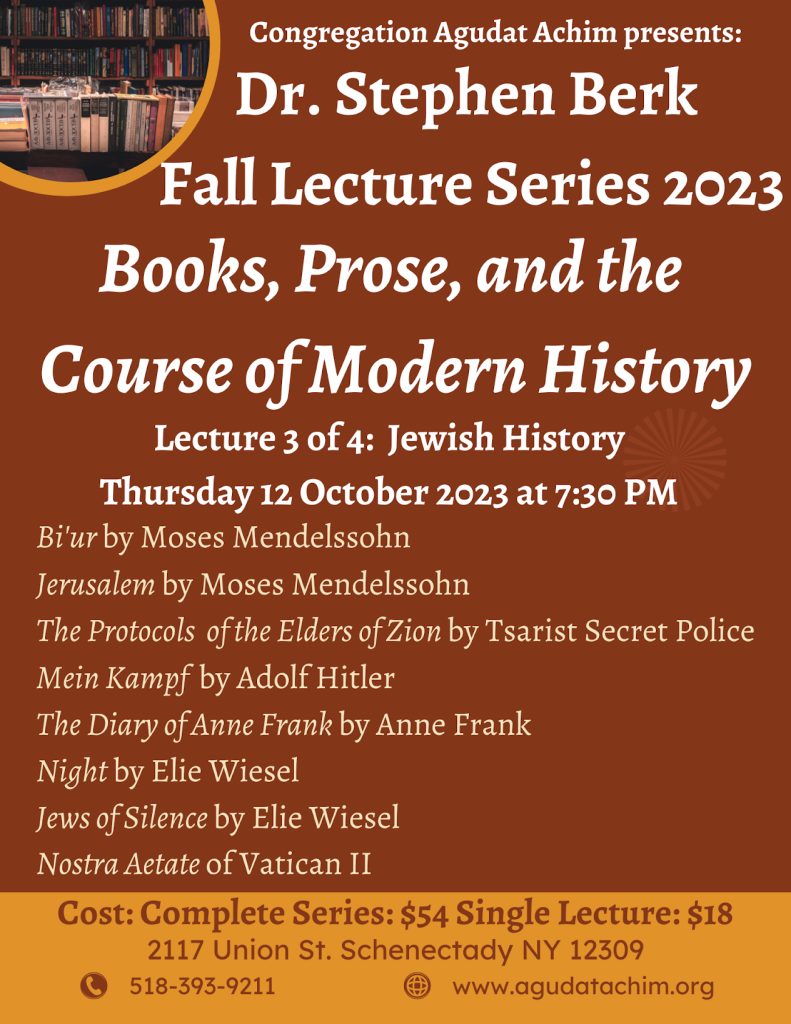 Week 3 – 12 Oct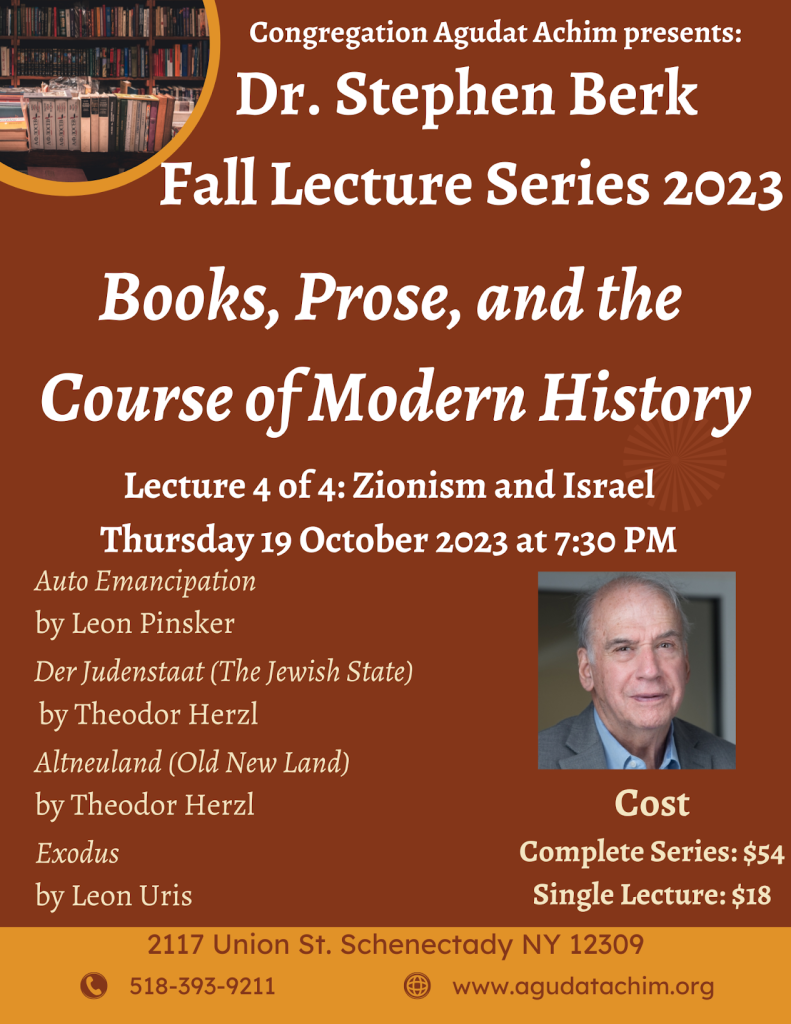 Week 4 – 19 Oct
Dr. Stephen Berk Lecture Series
We are very fortunate to offer Dr. Berk's lectures each fall. He is a treasured and valued member of our congregation. You will not want to miss the opportunity to hear Dr. Berk's powerful voice and experience his lectures! To learn more about Dr. Stephen Berk, his podcasts, videos, and products, visit his website at https://www.profstephenberk.com/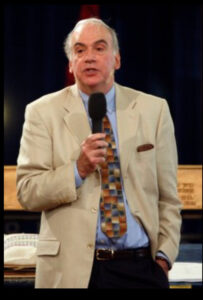 About Dr. Stephen Berk
Dr. Stephen M. Berk is a Professor of History at Union College in Schenectady, New York, former Chair of the Department of History, Director of the Program in Russian and Eastern European Studies, and Faculty Advisor to the Jewish Student Organization. He is the author of "Year of Crisis, Year of Hope: Russian Jewry, and the Pogroms of 1881-1882" (Greenwood Press, 1985). He is currently writing a book titled  "Our People Are Your People: American Jewry and the Struggle for Civil Rights 1954-1965." The book provides an interesting discussion of an extremely important chapter in the history of the civil rights movement and attempts to dispel the myths and misunderstandings surrounding the Black-Jewish relationship. Professor Berk is a recipient of the
Citizens Laureate Award of the University of Albany Foundation.
Professor Berk has been a consultant to the Wiesenthal Holocaust Center in Los Angeles, and in 1992 made a set of six-hour-long audiotaped lectures on the Holocaust that have been sold across the country. His well-received book on the pogroms of 1881-1882 deals with anti-Semitism in Russia and Eastern Europe. It is an important contribution to the pre-history of the Holocaust in the Jewish heartland. Professor Berk has written articles on Russian and Jewish history, anti-Semitism, and the Middle East. In 1994 he authored a brief and interesting article on the Holocaust in Yugoslavia. He has lectured in countless cities and towns throughout the United States and Canada, as well as at such distinguished colleges and universities as Princeton, Vanderbilt, The University of Texas at Austin, and Williams College.
Professor Berk is frequently consulted by newspaper reporters and by television and radio stations, including the BBC. He is lauded as a superb lecturer and teacher. Two college guidebooks mention him as the best teacher at Union College. Lisa Birnbach's book "New and Improved College" refers  to him as an "amazing lecturer." Edward B. Fiske writes in the Fiske Guide to Colleges, "The History Department is home to Union's most esteemed lecturer," and notes that Professor Berk's course on the Holocaust is the most popular one offered at the College. Professor Berk is equally adept in scholarly, popular, and fundraising talks.
In 1996 Professor Berk received the prestigious Holocaust Memorial Award from the Holocaust Survivors and Friends Education Center. The citation accompanying the award states: "On the 50th Anniversary of the end of the Nuremberg trials, the Holocaust Memorial Award honors Dr. Berk's years of dedication to understanding and education as a worldwide lecturer and spellbinding speaker on the lessons of the Holocaust and its meaning for today." In addition, in 2010, Professor Berk was designated an Israel Hero for his defense and advocacy of the State of Israel by JERNY, the Jewish Educational Resources of New York.