As You Like It Catering
Menus, Meals-to-go, Divine Kosher Cuisine Cookbook, and more!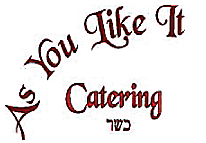 Updated regularly by Catering Manager Risé Routenberg; contact syncaterer@aol.com to place an order today!
As You Like It Catering, the premier kosher catering service in the Capital District has the perfect warm and inviting facility for you. Our beautiful stained glass sanctuary, spacious social halls, and available supplementary rooms offer the ideal background for any occasion.  We have proudly served the Capital District for more than 50 years.  Our kosher cuisine is outstanding and unmatched in this area for its classic traditional and progressive flare. In addition, the convenience of holding a wedding or Bar/Bat Mitzvah in our beautiful sanctuary allows your guests to walk a few steps into the reception areas.
Whether you are planning a wedding, Bar or Bat Mitzvah, anniversary, birthday, or other special occasions, As You Like It has the expertise you're searching for.  Special occasions deserve special touches.  As You Like It, we will work with you to make your event one to remember, just as you envision it. In addition, we can help you to create and design an event that suits both your style and budget. We offer fine dining attended by our expert wait staff as well as more casual fare and service.  Tailor-made platters of pastries and appetizers, as well as prepared main courses, sides, and accompaniments, are available to take out for home events. In addition, we can prepare family favorites and favorites of our own, traditional, Mediterranean, Italian, trendy, and more.
Our Meals-to-Go Market, featuring prepared, frozen take-home food, is ready and waiting for you. Call us to arrange to pick up or stop in.  An extensive inventory of our appetizing food is frozen in small portions and placed in our take-home food freezers.  Meat, dairy, pareve, vegetarian, vegan, and gluten-free main courses, sides, soups, and desserts are ready for sale. Stop by to pick up a Shabbat meal for yourself and one for your friends, or a meal to support someone in need, those observing shivah or enjoying a simcha.
Whatever the occasion, let us cater to your needs, "As You Like It."
Contact us at  (518) 393-9211
Meals-to-go Market
Updated regularly by Catering Manager Risé Routenberg; contact syncaterer@aol.com to place an order today!
Divine Kosher Cuisine Cookbook
currently on sale
Single copy $10.00 $32.99
Case of six $54.00 $120.00
Divine Kosher Cuisine Cookbook
Divine Kosher Cuisine, co-authored by Rise' Routenberg and Barbara Wasser, is a collaborative effort at Congregation Agudat Achim in Niskayuna, NY. It includes treasured submissions of congregants and favorite and signature recipes of the synagogue's international award-winning As You Like It Kosher Catering service. Its more than 200 full-color photographs and 500+ recipes — some never before revealed – cover all holidays and all occasions for creative home cooking and gracious home entertaining. It brings kosher cooking into the 21st Century, blending traditional dishes with classic ingredients with trimmed-down, vegetarian, and non-dairy versions. With Divine Kosher Cuisine in hand, you can: Master a basic recipe and go on to create endless variations; easily find recipes that are keyed for dairy, meat, and/or pareve; re-create traditional fare handed down from generations, or try trendy; go international with tastes from around the world; let the kids be the chefs and prepare kid-friendly foods; bake signature desserts, like Almond Horns, non-dairy I Can't Believe It's Not Cheese, Cheesecake, Signature Triple-Layer Chocolate Mousse Cake, and our incomparable carrot cakes; build multi-level displays for your buffet table, from simple items found around the house and discover step-by-step home event planning in "Catering to Family & Friends" chapter.
Menus
As You Like It Catering's Shabbat Kiddush Luncheon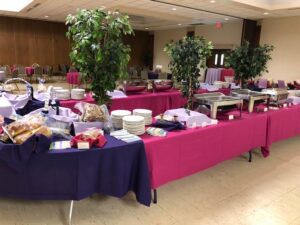 -This bountiful menu is presented as a package, but we also invite you to design your own personal Kiddish menu.
We have included our favorite add-on options below for your convenience—
Kiddush Wine, Grape Juice & Apple Juice
Blended Whiskey or Scotch
Sliced Challah, Rye Bread & Crackers
Assortment of Bagels and Bialys with Whipped Cream Cheese
Decorative Platters of Sliced Tomatoes, Cucumbers, & Red Onions
Our Signature Tuna Salad and Egg Salad
Sesame Peanut Noodles with Scallions & Pepper Strips
Crudités with Dip of your choice
Fresh Seasonal Fruit Platters
Lavish Selection of Our-Own Delectable Cakes, Cookies, & Pastries
Full Coffee and Tea Service
————-Served on beautiful linen tablecloths and fine china———
Cost per person: $20
Plus Gratuity: 20%/ Plus Linen cost/ Sales tax will apply for private functions

Optional Add-on extras:

Cold Items:
Sliced Lox Platters with Capers, Herbed Cream Cheese, Pita Wedges with Hummus & Olives, Assorted Cheese Platters, Fresh Grain Salads, Roasted Vegetable Platters, Elaborate Salad Bar, Our Signature Whitefish Salad & so much more……
Hot Items:
Catering's Dairy Kugel with Sour Cream, Vegetable Quiches, Blintze Soufflé with Fruit Sauce, Falafel Bar with Pita, Tahini Sauce & Israeli Salad, Macaroni & Cheese, Roasted Herbed Salmon, Popular Eggplant Parmesan, Pizza Station, Pizza Bagels…AND SO MUCH MORE! Please ask!
Special Requests? Dietary restrictions? We are happy to work with you.
Congregation Agudat Achim's Hospitality Kiddush Menu:
Kiddush Wine, Blended Whiskey & Scotch
Grape Juice and Apple Juice
Herring with Challah/Crackers
Hummus with Pita and Crudites
Sesame Noodles with Mixed Peppers, Scallions & Chickpeas
Egg Salad OR Tuna Salad
Mini Bagels and Cream Cheese
Seasonal Fruit
Cookie Selection including gluten-free items
Assorted Snacks
Coffee & Tea
——————————-
This Kiddush uses disposable white tablecloths & paper products.
Cost: $500 for up to 75 guests
Additional Guests: $6 per person
~We are happy to place out any personal candies/ centerpieces for you.~
Catering Volunteers
Our deepest thanks to our many volunteers.  We couldn't do it without you!