While we are affiliated with the United Synagogue for Conservative Judaism, our school is composed of families who come from all streams of Judaism. All are welcome! We offer classes starting with Pre-K and continuing through Grade 12.
To register for the 2023 – 2024 School Year, please click here.
Religious School Calendar 5784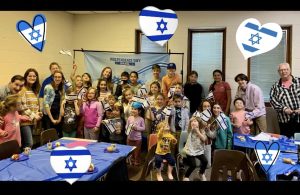 Our dedicated and enthusiastic Education Director works with a team of caring, professional teachers to:
Inspire and nurture a lifelong love of Jewish life and learning.
Impart our heritage and tradition through study.
Teach skills necessary to practice Judaism in accordance with the Conservative movement.
Provide skills and knowledge essential for participation in Shabbat, holiday, and life cycle events.
Develop an in-depth knowledge and love of the State of Israel and a commitment to its existence.
Transmit a sense of responsibility for the worldwide Jewish community and the world through the mitzvot and Tikkun Olam.
Our Religious School is proud to offer:
Engaging educational opportunities: Our belief is Jewish Education must be fun, positive, and captivating.
Small classes with personalized attention: We can accommodate any special needs you or your child may have.
Hebrew and Jewish Education: Our program will instill Jewish values and prepare your child for Bar or Bat Mitzvah. Private sessions with our Haftorah Tutors for each student prepare them for this special milestone event.
Monthly Junior Congregation: Youth-oriented Junior Congregation Shabbat morning services are led for and by the students under the direction of our professional staff and lay leaders.
Individual Bar/Bat Mitzvah dates with no sharing: Our Bar/Bat Mitzvah students can celebrate their private day individually making it more special and memorable.
Low Introductory Membership required unless paying tuition: As a new member joining our congregation, your child/children can attend Religious School at $150.00 membership for the first year.
No Tuition if a member: At Agudat Achim, we believe that educating our children is a community responsibility. Our dues include tuition costs for all. However, we do charge a modest book and activity fee. (see fees below)
Jack Mintzer, our Education Director, has an open-door policy, and prospective and current families are always welcome to meet with him and observe positive Jewish Education in action. To meet with Jack, please call the Education office directly at (518) 393-9211 or email him at Eddirector@agudatachim.org. In addition, prospective teachers are invited to email him their resumes at this email address as well.
Fees associated with the Religious School:
Book and Activity Fee:
$220.00 per child in Elementary grades Prek – 7
$ 550.00 Total for a family
$110.00 for Hebrew High School
Tuition:
Free if a member of CAA
$500.00 if a member of another Congregation
$750.00 if not a member anywhere