The heaven and the earth were finished on the seventh day, and God ceased from all work. God blessed the seventh day and sanctified it. [Gen. 2:1-2].
Shabbat Shalom. A day of peace, a day of prayer, a day of greeting. Join us on Friday evenings, as we welcome the Sabbath Bride, and /or on Saturday mornings, for study and prayer. Congregation Agudat Achim offers a variety of Shabbat experiences for congregants and guests of all ages.
Shabbat Morning Services
Services begin at 9:15 AM
(Stream opens at 9:00 AM)
If the above viewer is not functioning, connect to the Agudat Achim YouTube channel and you may be able to access our livestream there.
Please note: Shabbat Shacharit/Torah/Musaf Services will always be posted to this page.
Our weekday minyanim are always accessible via Zoom, even when some gather in-person in our chapel or at a shiva house, are held here at this link: CAA Weekday Minyan Zoom Room
A full schedule of those services can be found at this link: https://www.agudatachim.com/worship/
The Mitzvah of Hospitality
Hosting a Kiddush on Shabbat morning is a lovely way to celebrate both Shabbat and a special event in your life, be it a birthday, wedding anniversary, the anniversary of your Bar/Bat Mitzvah, or whatever it may be that strikes your fancy. Kiddush can be simple or elaborate, depending on your taste. Please call the office to select a Shabbat or Yom Tov for hosting a Kiddush.
We invite you to sponsor a Kiddush!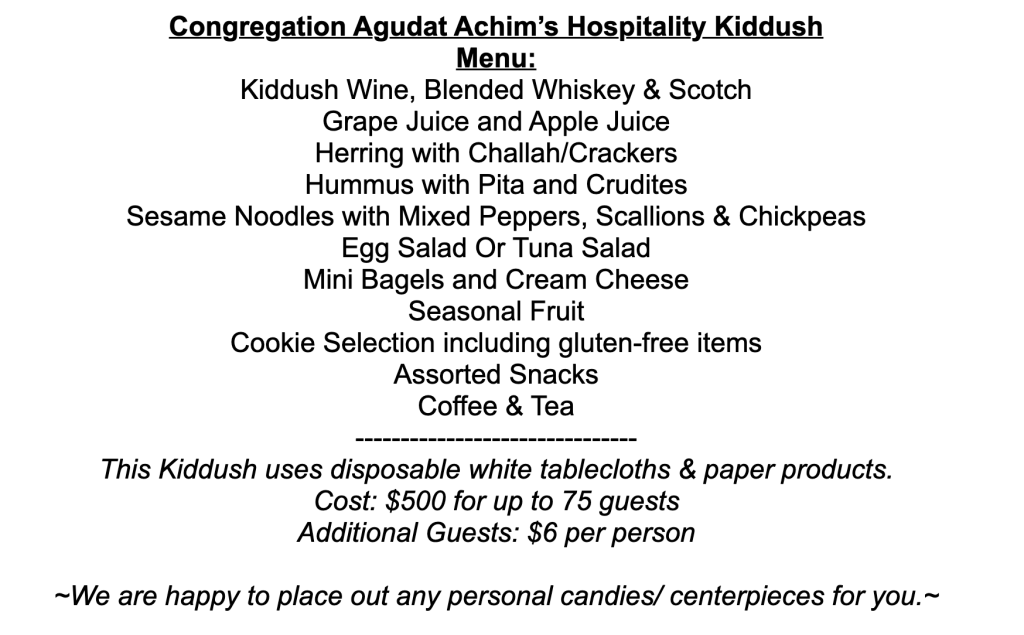 We gratefully accept donations to the Hospitality Fund, which may cover the cost of a future Kiddush.
For more information contact the office at (518) 393-9211 or write admin@agudatachim.org

We invite you into our sanctuary for Shabbat morning services each week. Join us if you are able!