Coming this fall…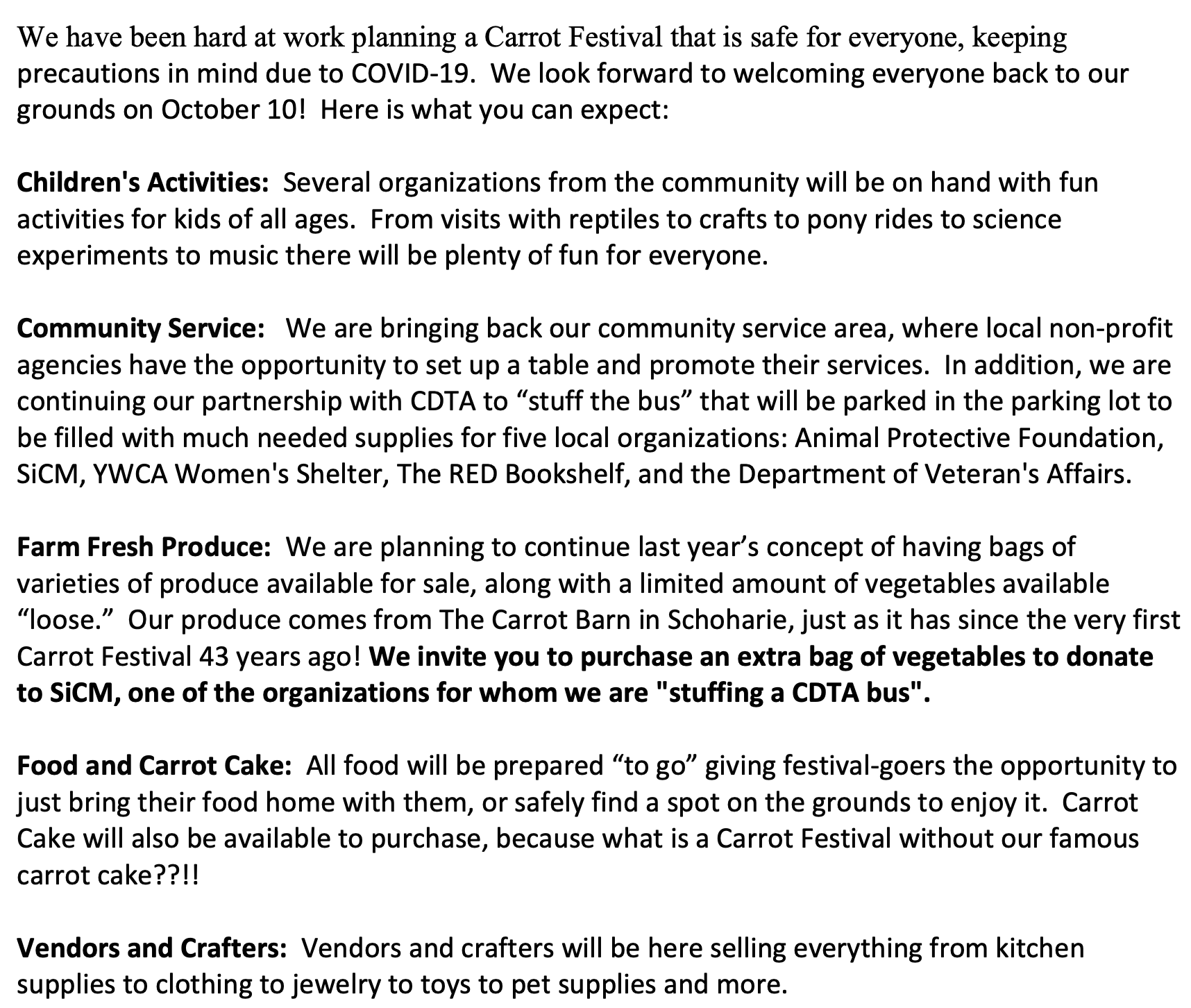 Carrot Festival Sponsors: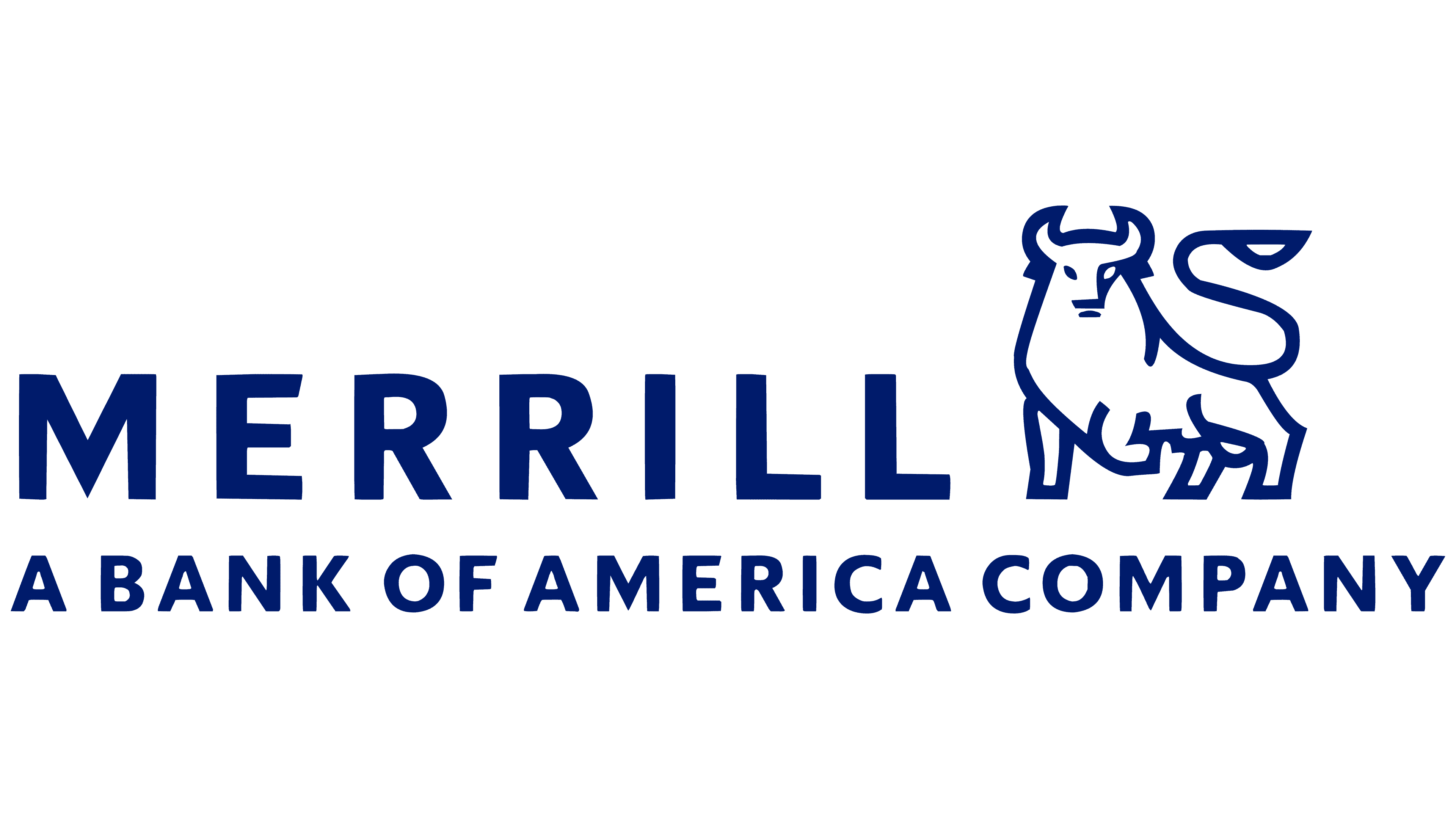 Carrot Festival Food Offerings: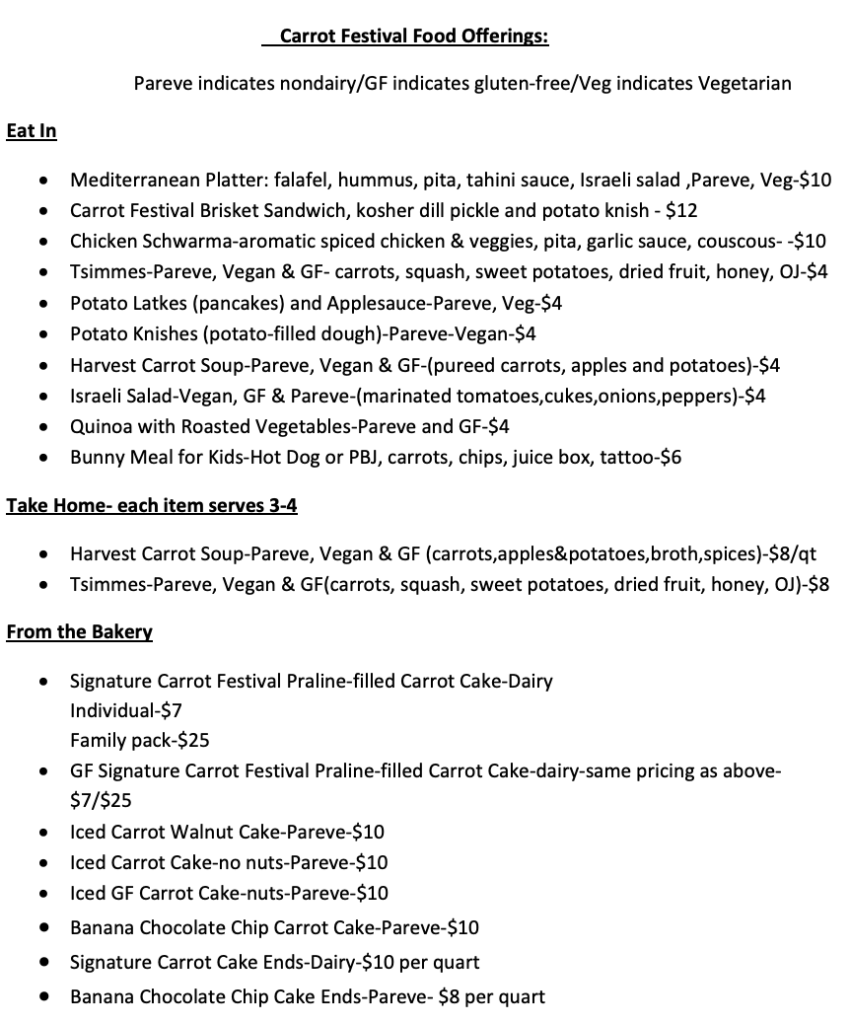 2021 Carrot A-Peel:
Do you know that we typically use approximately 800 pounds of baking supplies (flour, sugar, powdered sugar, eggs, pecans, and of course CARROTS) in addition to many other expenses and food supplies to get ready for our Carrot Festival? The "Carrot A-Peel" is a way to achieve the goal of making the 43rd Carrot Annual Festival an
important financial success for our synagogue.

Stuff The Bus: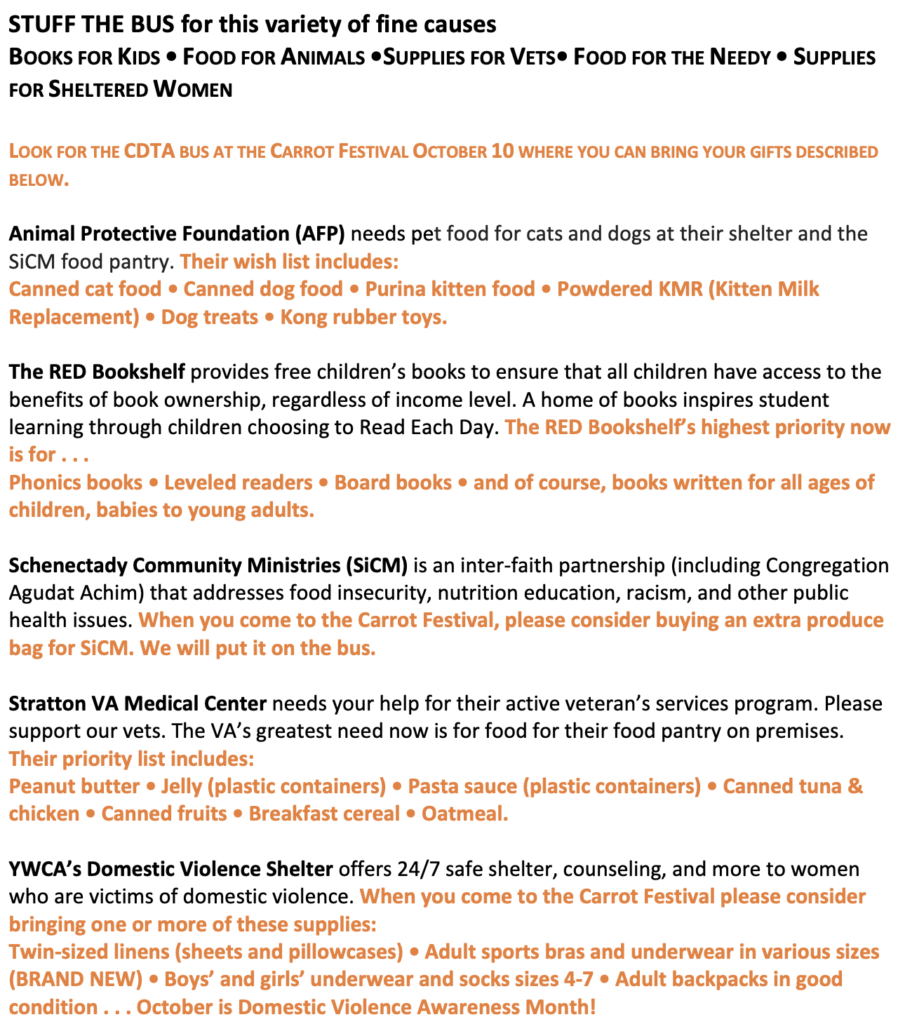 Vendors:
New York Life Insurance Company
Karen Hausler/Registered Representative and Insurance Agent
https://www.newyorklife.com/agent/khausler

Top of the Hill Treasures
Kathryn and Sarah Thomas

Molly Marie Made
Molly Hughes
https://www.etsy.com/shop/MollyMarieMade

The Gilded Door
Kelly Chapman
http://www.thegildeddoor.com/
Facebook/ The Gilded Door
Crusin' Creations
Diane Babin
www.cruisincreations.etsy.com
www.facebook.com/cruisincreations12
www.pinterest.com/cruisincreation
www.cruisincreations.blogspot.com
Kreatively Kat
Facebook/ Kreatively Kat
Kathy Moller

Perky Penguin Crafts
Facebook/ Perky Penguin Crafts Instagram @craftypenguin
Sue Hostig
Pampered Chef
Lisa Jubert
www.pamperedchef.com/pws/keeponcooking
Pink Zebra Home
Michele Miller
www.pinkzebrahome.com/miascents

O'Boys Soap Company
Angela Bartels
Www.Etsy.com/shop/oboyssoapcompany

The Body Shop at Home
Jessie Beauharnois
https://thebodyshopathome-usa.com/JessieBeauharnois

Audrey's Art LTD
Audrey Leczinsky

Blackbird Design Studio
Meryl Davis
Instagram/ https://www.instagram.com/blackbirddesign.studio
Drawings By Shoham
Shoham Randall
drawingsbyshoham.etsy.com
Instagram/ https://www.instagram.com/drawingsbyshoham/
Lisa NeJame
Handmade  Jewelry
Paparazzi Jewelry and Accessories
Linda Johnson
https://paparazziaccessories.com/225766
Facebook/ Johnson's Jazzy Jewels
Magical Vacation Planner
Jennifer Lashway
https://jennlashwaymvp.carrd.co/

USA Medicare Consultants
Erin Prendergast / Licensed Agent
https://usamedicareconsultants.com

Gotta Have It
Mary Beth Sharkey

Tupperware
Cindy Justice
https://my.tupperware.com/CINDYJUSTICE
Operation At Ease
operationatease.org
Norwex
Karen Finnessey
https://karenfinnessey.norwex.biz
Chunky Funk and the Insatiable Hook
Sandra Nguyen
https://www.etsy.com/shop/TheInsatiableHook
https://www.instagram.com/chunkyfunkandtheinsatiablehook/
Untangled Yarns: Fiction and Nonfiction Editing by Sandra Nguyen
Happy Home Houseplants
Maureen Taub

Pietrow Designs
Jennifer Pietrow
pietrowdesigns.com
https://www.facebook.com/Pietrow-Designs-431484863653870
Dance Fire Studio & Fitness
Natalia O'Connor
https://www.dancefirestudio.com/
Clowning with Joy
Linda Bellick
Clark Designs
Nichole Clark
Upstate Press
Christine Carle
Liz's Corner
Elizabeth Paul
Patricia Becker Designs
Patricia Becker
Color Street
Bath Fitter
David Murray
Marty's Jewelry
Marty Wigler
Natalie Oshins
Paintings by Robert Oshins

Community Service Representatives
2 Harts One Soul
Jewish Family Services
Niskayuna Rotary Club
Northern Rivers Family of Services
Octavo Singers
RISSE
Schenectady Chapter 74 Therapy Dogs International
Schenectady County Department of Senior And Long Term Care Services
SICM
United Way of the Greater Capital Region
YWCA of Northeastern New York

Carrot Festival History: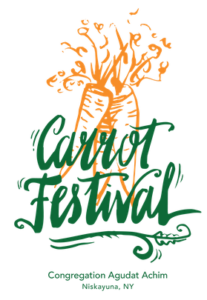 In 1978, the CAA parking lot needed paving. Members Paul and Rose Westheimer, owners of The Carrot Barn at Schoharie Valley Farms, produced and packaged 1400 tons of carrots that year and suggested during a brainstorming session that a carrot-themed fundraiser might be a successful endeavor to complete the task at hand.
After more than 40 years of successful Carrot Festivals, the Westheimers were glad to see their idea become a community institution. They remembered Paul's father, Julius, making and selling fresh carrot juice at the first festival! There were pony rides on the front lawn, along with cotton candy and taffy for kids. "It was minuscule compared to now," Paul Westheimer said. The money raised in that first festival, mostly from selling fruit and vegetables, paid for the paving job and was the beginning of what has become one of the Capital Region's favorite end-of-summer outings. Long after the Carrot Barn was sold, the Westheimers were active members of the Carrot Festival committee, until they relocated to Massachussetts. Sadly, we lost precious Rose z"l in early 2021. Her legacy lives on. The Carrot Festival now showcases foods and desserts, including several kinds of carrot cake. Other features include fresh produce from the Carrot Barn in Schoharie, live music and entertainment throughout the day, vendors and crafters, a community service tent, a pet adoption clinic, and plenty of activities to keep children entertained. The "star of the show" is the Signature Carrot Festival Carrot Cake: a buttery praline filling between the two cake layers, topped with a rich cream cheese frosting. In 2006, the Congregation copyrighted and published the cookbook Divine Kosher Cuisine. An entire cookbook section was devoted to Carrot Festival recipes. The cookbook contains many delicious kosher recipes and can be purchased at our Leora Judaica Gift Shop
Entertainment traditionally includes a Klezmer band, Israeli dancers, performers from Schenectady Light Opera Company's (SLOC's) fall shows, and much more. In addition, special afternoon concerts have featured the local bands Flame, Joe's Boys, the McKrells, The Accents, and The Refrigerators, to name a few. In 2019, we were also honored with a performance by American Idol Third Place winner Madison VanDenburg, who lives in Cohoes.
Vendors and crafters sell jewelry, kitchen gadgets, pottery, cosmetics, floral designs, clothing, and more. The community service tent features local non-profit organizations showcasing what they do to help the community, as well as many volunteer opportunities with our new partner, The United Way of the Greater Capital Region!  The children's area is always filled with activities to keep kids of all ages busy for hours.
The Carrot Festival has become a community family tradition, and we are proud that COVID-19 did not stop us from holding a festival in 2020, even if it looked a bit different. But happily, the Westheimers' vision carries on with volunteers hard at work planning our 2021 Carrot Festival. We welcome you to join us!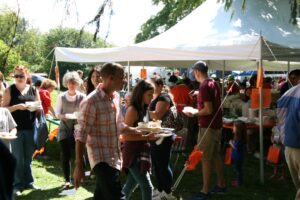 Carrot Festival Facebook page: https://www.facebook.com/CarrotFestival
Congregation Agudat Achim office: 518-393-9211
Other Questions?
Contact Hillary at hbean5891@aol.com or 518-331-4208
Photos from Carrot Festival 2021
Photos from Carrot Festival 2019 and prior