Rabbi Spitzer wants to get to know you! See this video message from our rabbi:
Ways to connect with Rabbi Spitzer:
What we want to emphasize about our rabbi: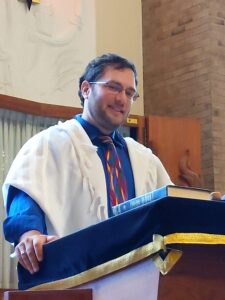 Rabbi Rafi Spitzer has served as rabbi and spiritual leader of Congregation Agudat Achim since August 1, 2019. He ably and nimbly transformed his rabbinate and transitioned our community to a full complement of virtual worship, education, and pastoral care connections throughout the COVID pandemic and helped us to return safely back into the building with spiritual consciousness. In addition, he challenged our community to conduct a process of strategic planning, which has helped clarify our priorities for the next few years, and he consistently shows an eagerness to learn and improve, responding to our feedback with growth.
Our congregation is proud of Rabbi Spitzer's leadership in Schenectady and the region. He serves as the Vice President of the Capital District Board of Rabbis and Cantors and as an appointed commissioner of the county legislature's Schenectady County Human Rights Commission. Rabbi Spitzer is also a trustee of the Hebrew Academy of the Capital District, our local Jewish Day School, and is an active member of the Schenectady Clergy Against Hate. In addition, he is involved with many of our partner organizations, including Jewish Family Services, the Schenectady JCC, and the Jewish Federation of Northeastern New York. The Rabbinical Assembly asked Rabbi Spitzer to join the team working on updating and creating a new clergy manual on the "Journey to Parenthood" task force. His experience with infertility and miscarriage is helping to shape a more contemporary approach to Jewish ritual.
Rabbi Spitzer grew up in Sharon, MA, and was trained and ordained by the Jewish Theological Seminary of America in New York City. In addition to ordination, he earned a Master of Arts degree in Judaic Studies and received a Certificate in Pastoral Care and Counseling. Rabbi Spitzer holds a Bachelor's degree in Anthropology from Boston University. While in Rabbinical School, Rabbi Spitzer worked as a hospice chaplain for two (2) year-long extended units of Clinical Pastoral Education, an experience that has served him well in our congregation. As a rabbinic intern at the United Synagogue of Hoboken and a student rabbi at the Fitzgerald Hebrew Congregation of Fitzgerald, GA, Rabbi Spitzer learned many of the skills he now uses to support our congregants' search for meaning and exploration of Jewish living and learning. Rabbi Spitzer loves and is challenged by the State of Israel and engages with Encounter, AIPAC, JNF, and other Zionist organizations. He fondly recalls summers spent at Camp Ramah in New England, where he was a counselor and Rosh Edah (unit head) for many years. Rabbi Spitzer trained as a mikvah guide at Mayyim Hayyim in Newton, MA, and has studied Talmud and Jewish Law intensively at the Jewish Theological Seminary's Nishma Summer Beit Midrash and with the Hadar Institute. In addition to his Judaic certifications, he earned a Bachelor's degree in Anthropology from Boston University.
Rabbi Spitzer and his wife Rachael Besser live with their three children, Ellie, Jonah, and Zakai, in Niskayuna and can be found most Shabbat afternoons taking family walks around the neighborhood. Rabbi Spitzer likes cooking, listening to podcasts and audiobooks, and vacations at the Jersey Shore. He wants to get to know every individual in the community better, so please take him up on his offer to meet.