Jean Hoffman Lewanda: Witness to History – From Vietnam to Shanghai
This is a mem­oir of an 18-year-old Aus­tri­an Jew who escaped to Shang­hai, Chi­na by him­self in 1938. Upon arriv­ing in Chi­na, not only does Paul sup­port him­self, but also helps his par­ents, sis­ter, aunt and uncle leave Europe and sur­vive World War II in Shang­hai. Paul relates how the Sephardic Jew­ish com­mu­ni­ty came to the aid of the Jews flee­ing Cen­tral Europe. He pro­vides a detailed descrip­tion of the two years that the fam­i­ly was con­fined to the Hongkew Ghet­to. While many in the Jew­ish com­mu­ni­ty elect­ed to leave Chi­na as soon as pos­si­ble after WWII, Paul and his young wife, Shirley, elect­ed to stay on after the Com­mu­nist takeover. This deci­sion led to a sequence of events that rivaled the per­ils of the war years.
About the Author: Jean Hoffmann Lewanda was born in April of 1954 in New York City, one year after Paul and Shulamis Hoffmann arrived in America. She received an undergraduate degree from the University at Albany, her masters degree from New York University, and a Sixth Year Certificate from the University of Connecticut. Jean was a Special Educator for forty years in both private and public schools across all grade levels in the Greater Hartford area in Connecticut. Now retired, Jean lives in Yardley, Pennsylvania near her children and grandchildren. She now shares her family story by participating in Holocaust Education programs.
Purchase Witness to History: From Vienna to Shanghai: A Memoir of Escape, Survival and Resilience from Amazon or Bookshop
Ambassador Martin Indyk: Master of the Game: Henry Kissinger and the Art of Middle East Diplomacy
More than twen­ty years have elapsed since the Unit­ed States last bro­kered a peace agree­ment between the Israelis and Pales­tini­ans. In that time, three pres­i­dents have tried and failed. Mar­tin Indyk — a for­mer Unit­ed States ambas­sador to Israel and spe­cial envoy for the Israeli-Pales­tin­ian nego­ti­a­tions in 2013 — has expe­ri­enced these polit­i­cal frus­tra­tions and dis­ap­point­ments first­hand. Now, in an attempt to under­stand the arc of Amer­i­can diplo­mat­ic influ­ence in the Mid­dle East, he returns to the ori­gins of Amer­i­can-led peace efforts and to the man who cre­at­ed the Mid­dle East peace process — Hen­ry Kissinger. Based on new­ly avail­able doc­u­ments from Amer­i­can and Israeli archives, exten­sive inter­views with Kissinger, and Indyk's own inter­ac­tions with some of the main play­ers, the author takes read­ers inside the nego­ti­a­tions. Indyk's account is that of a his­to­ri­an por­ing over the records of these events, as well as an inside play­er seek­ing to glean lessons for Mid­dle East peace­mak­ing. He makes clear that under­stand­ing Kissinger's design for Mid­dle East peace­mak­ing is key to com­pre­hend­ing how — and how not— to make peace.
Join us on Zoom 15 December 2022 at 7:30pm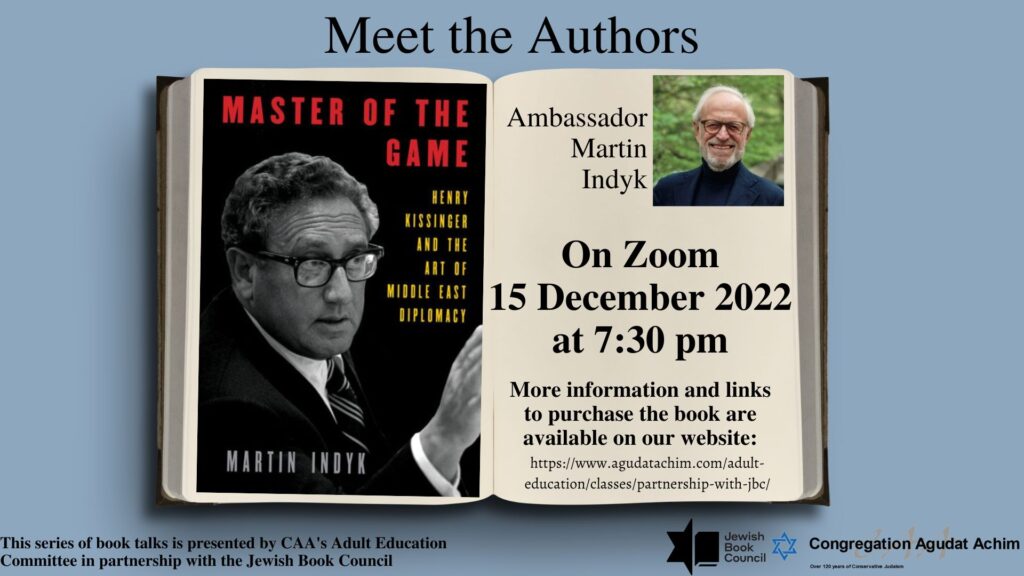 About the Author: Mar­tin Indyk is a dis­tin­guished fel­low at the Coun­cil on For­eign Rela­tions and a for­mer U.S. ambas­sador to Israel, assis­tant sec­re­tary of state for Near East Affairs, and spe­cial assis­tant to Pres­i­dent Clin­ton. Pre­vi­ous­ly, Indyk was exec­u­tive vice pres­i­dent of the Brook­ings Insti­tu­tion, where he had also served as vice pres­i­dent and direc­tor of the For­eign Pol­i­cy pro­gram and the found­ing direc­tor of its Cen­ter for Mid­dle East Pol­i­cy. He served as Pres­i­dent Oba­ma's spe­cial envoy for the Israeli-Pales­tin­ian nego­ti­a­tions from July 2013 to June 2014. He lives in New York.
Purchase Master of the Game: Henry Kissinger and the Art of Middle East Diplomacy from Amazon or Bookshop
Shaunna Edwards and Alyson Richman: The Thread Collectors
1863: In a small Creole cottage in New Orleans, an ingenious young Black woman named Stella embroiders intricate maps on repurposed cloth to help enslaved men flee and join the Union Army. Bound to a man who would kill her if he knew of her clandestine activities, Stella has to hide not only her efforts but her love for William, a Black soldier and a brilliant musician.
Meanwhile, in New York City, a Jewish woman stitches a quilt for her husband, who is stationed in Louisiana with the Union Army. Between abolitionist meetings, Lily rolls bandages and crafts quilts with her sewing circle for other soldiers, too, hoping for their safe return home. But when months go by without word from her husband, Lily resolves to make the perilous journey South to search for him.
As these two women risk everything for love and freedom during the brutal Civil War, their paths converge in New Orleans, where an unexpected encounter leads them to discover that even the most delicate threads have the capacity to save us. Loosely inspired by the authors' family histories, this stunning novel will stay with readers for a long time.
Join us on Zoom 23 Feburary 2023 at 7:30pm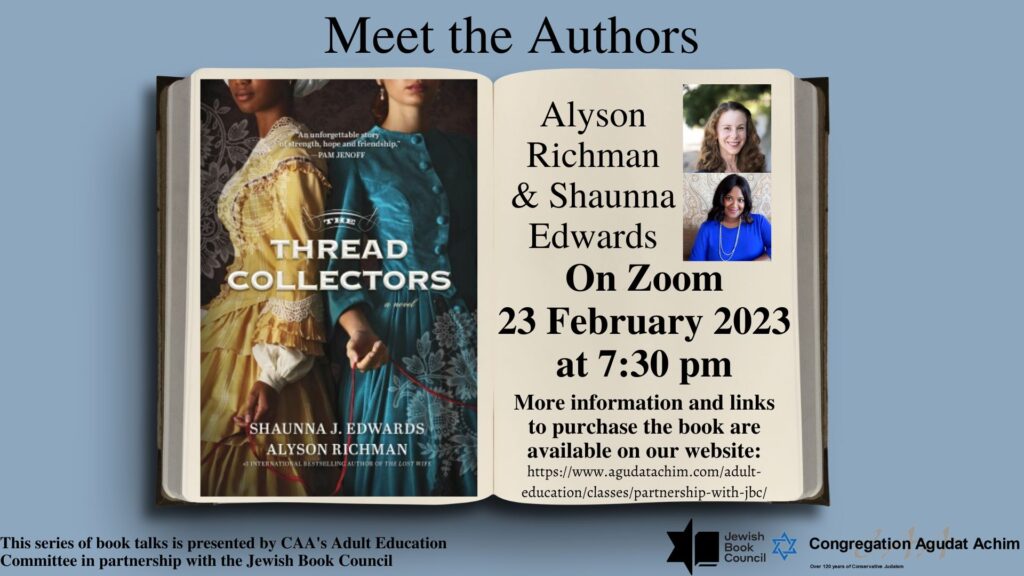 About the Authors:
Alyson Rich­man is the USA Today and #1 inter­na­tion­al best­selling author of sev­er­al his­tor­i­cal nov­els, includ­ing The Vel­vet Hours, The Gar­den of Let­ters, and The Lost Wife, which is cur­rent­ly in devel­op­ment for a major motion pic­ture. Alyson grad­u­at­ed from Welles­ley Col­lege with a degree in art his­to­ry and Japan­ese stud­ies. She is an accom­plished painter and her nov­els com­bine her deep love of art, his­tor­i­cal research, and trav­el. Alyson's nov­els have been pub­lished in twen­ty-five lan­guages and have reached best­seller lists both in the Unit­ed States and abroad. She lives on Long Island with her hus­band and two chil­dren, where she is cur­rent­ly at work on her next nov­el. Find her on Insta­gram, @alysonrichman.
Shau­na J. Edwards has a BA in lit­er­a­ture from Har­vard Col­lege and a JD from NYU School of Law. A for­mer cor­po­rate lawyer, she now works in diver­si­ty, equi­ty and inclu­sion. She is a native Louisian­ian, raised in New Orleans, and cur­rent­ly lives in Harlem with her hus­band. The Thread Col­lec­tors is her first nov­el. Find her on Insta­gram, @shaunnajedwards.
Purchase The Thread Collectors from Amazon or Bookshop
 Ira Rosen: Ticking Clock: Behind the Scenes at 60 Minutes
When producer Ira Rosen walked into the 60 Minutes offices in June 1980, he knew he was about to enter television history. His career catapulted him to the heights of broadcast journalism, breaking some of the most important stories in TV news. But behind the scenes was a war room of clashing producers, anchors, and the most formidable 60 Minutes figure: legendary correspondent Mike Wallace.
Based on decades of access and experience, Rosen takes readers behind closed doors to offer an incisive look at the show that invented TV investigative journalism. With surprising humor, charm, and an eye for colorful detail, he delivers an authoritative account of the unforgettable personalities that battled for prestige, credit, and the desire to scoop everyone else in the game. As one of Wallace's top producers, Rosen reveals the interview secrets that made his work legendary and the flaring temper that made him infamous. Later, as senior producer of ABC News' Primetime Live and 20/20, Rosen exposes the competitive environment among famous colleagues, including Diane Sawyer and Barbara Walters, and the power plays among correspondents Chris Wallace, Anderson Cooper, and Chris Cuomo.
A master class in how TV news is made, Ticking Clock shows readers how 60 Minutes puts together a story when sources are explosive, unreliable, and even dangerous. From unearthing shocking revelations from inside the Trump White House, to an outrageous proposition from Ghislaine Maxwell, to interviewing gangsters Joe Bonanno and John Gotti Jr., Ira Rosen was behind
the scenes of some of the most sensational stories that 60 Minutes broadcast.
Highly entertaining, dishy, and unforgettable, Ticking Clock is a never-before-told account of the most successful news show in American history.
Join us on Zoom 27 April 2023 at 7:30pm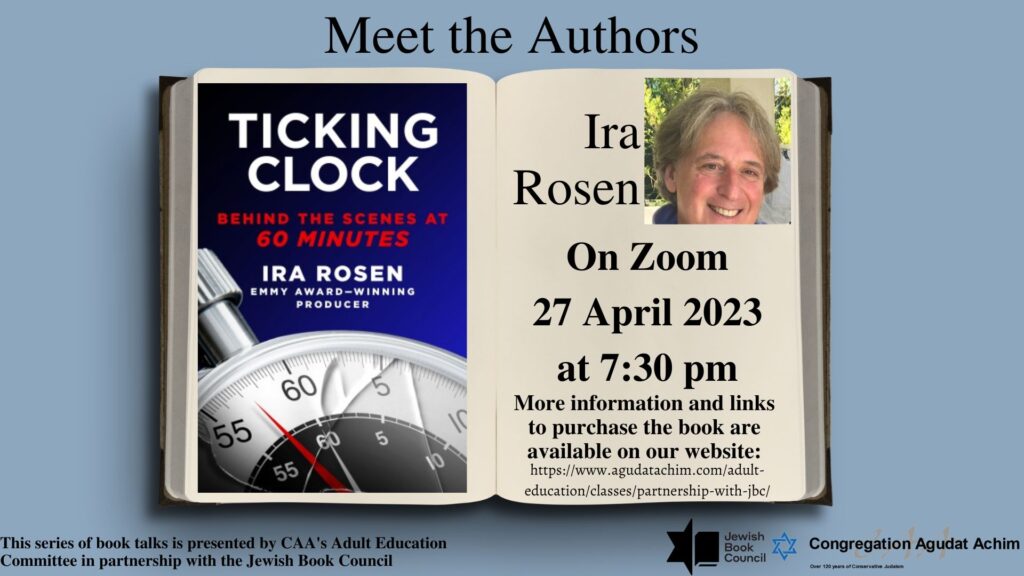 About the Author: For near­ly twen­ty-five years, Ira Rosen has pro­duced some of the most mem­o­rable, impor­tant, and ground­break­ing sto­ries for 60 Min­utes. A for­mer Nie­man Fel­low at Har­vard Uni­ver­si­ty, Rosen was a senior pro­duc­er of Prime­time Live with Diane Sawyer. Rosen has won 24 Nation­al Emmys, four duPont Awards, two RFK Awards, and two Peabodys for his work. He is the co-author of The Warn­ing: Acci­dent at Three Mile Island.
Purchase Ticking Clock: Behind the Scenes at 60 Minutes from Amazon or Bookshop
Debby Applegate: Madam: The Biography of Polly Adler, Icon of the Jazz Age
Madam is the biog­ra­phy of Pol­ly Adler (1900−1962), the most infa­mous and influ­en­tial madam in Jazz Age New York. Her 1953 mem­oir, A House is Not A Home, sold 2 mil­lion books and became a 1963 movie star­ring Shel­ley Win­ters. More than a biog­ra­phy, this is a col­or­ful and unusu­al his­to­ry of Jew­ish life told through the per­spec­tive of a ​"good Jew­ish girl" from a Russ­ian shtetl who immi­grat­ed to Brook­lyn, and rose to become ​"the Female Al Capone" and one of the most renowned Jew­ish-Amer­i­can women in the 20th cen­tu­ry. Her broth­els were under­world salons that catered to every­one from the Van­der­bilts and the Rock­fellers to Wal­ter Winchell, Frank Sina­tra, Desi Arnaz, the Algo­nquin Round­table, Dutch Schultz and Mey­er Lan­sky, and, it was rumored, Franklin D. Roo­sevelt. The New York Times Book Review praised Madam as a ​"fast-paced tale of rad­i­cal, will­ful trans­for­ma­tion," and ​"a breath­less tale told through extra­or­di­nary research." Deb­by Applegate's first book won the 2007 Pulitzer Prize for biog­ra­phy and she spent the next 13 years work­ing on Madam.
Join us on Zoom 8 June 2023 at 7:30pm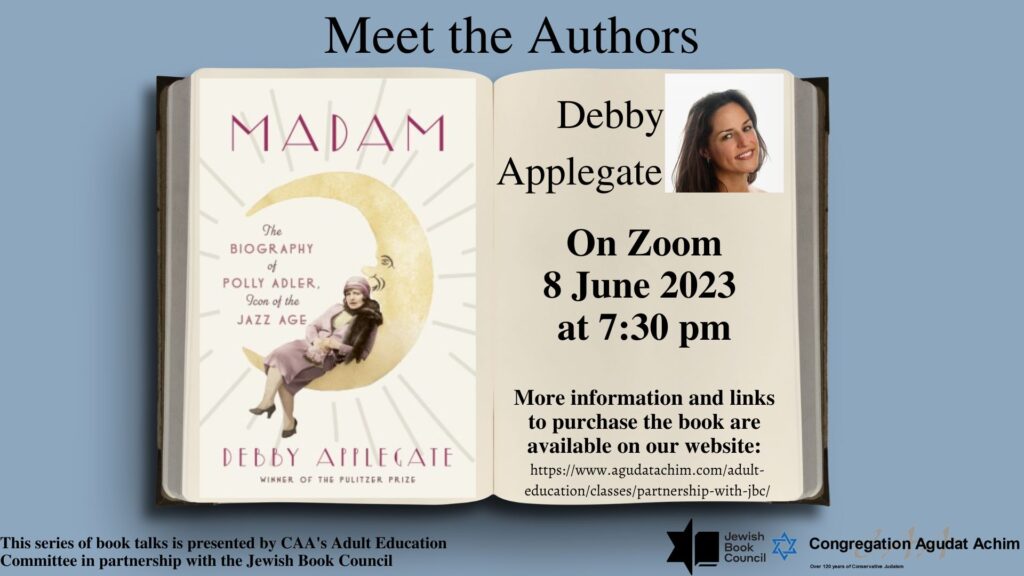 About the Author: Deb­by Apple­gate is a his­to­ri­an whose first book, The Most Famous Man in Amer­i­ca: The Biog­ra­phy of Hen­ry Ward Beech­er, won the Pulitzer Prize for Biog­ra­phy and was a final­ist for the Los Ange­les Book Prize and the Nation­al Book Crit­ics Cir­cle Award. She holds a Ph.D. from Yale Uni­ver­si­ty and lives in Con­necti­cut with her hus­band Bruce Tulgan.
Purchase Madam: The Biography of Polly Adler, Icon of the Jazz Age from Amazon or IndieBound